Keeping your unmatched folder empty is essential to keep your outreach organized. If you're curious as to why a particular email is in your unmatched folder, see: Why is this email in my Unmatched Folder?
To match an email to an opportunity, you must first click on the message and then there will be a table for you to match up the details. This includes: Project, Campaign, Opportunity, and Contact. If this is a new opportunity, you can click 'Create New Opportunity'.
Please Note: You can only match an email to an opportunity if the recipient email address has project access to the project that the opportunity is in.
Pitchbox will automatically attempt to match Project, Campaign, Opportunity, and contact information. When some, but not all, of this data is identified, you will have the option to use suggestions. Unmatched emails with suggestions will appear with the label 'Partial'.
In the event that all data except for contact is identified, Pitchbox will automatically match 'Partial' status emails and add in the new contact for you. Partial Match Automation settings can be reviewed on the individual email account level. From the Email Accounts page, click on 'Settings' for a connected email account, and then on 'Security'.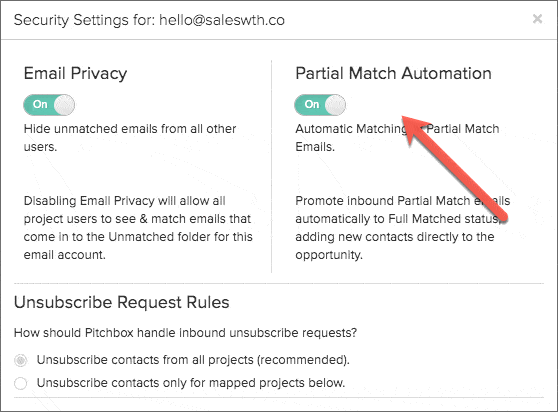 Please note: Security Settings can only be viewed and modified by the Admin/User who connected the email account.
If you get a response from an opportunity in your unmatched emails that wants to unsubscribe, or is not interested in your outreach at this time, you can choose to:
Match and Unsubscribe
Match and Archive